Testimonials
Love this concept and the science behind it. Made the Curry this morning and plan on eating it for lunches all week. So easy and delicious.

Sarah Gerten Roberts
My Mom has crowned me "Soup Queen" ... and my husband loved it too! Love, love love the broth bomb

Karen Raita Kress‎
The. Best. Stew. I have ever made. The Scarborough Fair broth bomb is perfection. We also just tried the Reubenator and everyone loved it!!

Hilary NB
It was so easy and delicious! Way better than prepackaged soup mixes!

Patricia Shaw
I just made a giant pot of the Scarborough Fair soup, and it is DELICIOUS. And so freaking easy! As a diabetic, this will make for some great healthy meals.

Joi Weaver‎
I cannot believe the amount of vegetables my hubby just ate... highly recommended.

Courtney Michelle Ellison
It was super infused with flavor! Just the right amount of spice. We will definitely be ordering again.

Jozelle Smith
I am working my way through my original order of 8 and am completely smitten! These are just amazing. I have since ordered the box of 27 so that I can share with family and friends….. just incredible!

Kathy Buck
Meal prep made easy! Drops of Jupiter-beans, sweet potatoes, tomatoes, onions, and garlic. Dinner for tonight and lunches for the week. I wish y'all could smell my kitchen!

Janet Raychouni
HANDCRAFTED SEASONINGS
Made in the U.S.
Free Shipping on Orders over $22.
Scroll down to shop our seasoning blends sets.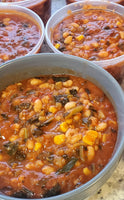 A Catalyst for One-pot Cooking
Broth Bomb™ produces a wonderful flavor profile. The baking powder reacts with the tartar present in the coating of legumes, which refines the legumes and creates a range of complex flavors.
They give beans a meatier texture...
and replace any need for bouillon; they make the stock from the food during cooking. Plus, they're packed full of herbs and spices, so no need to go shop for those to follow our amazing recipes.
Ideal for Meal Prep and Family Dinner
With a set of four seasonings you'll get a total of 40 pints of comforting stew. Recipes are on each box.
How it Started
Invented by Andrew Laurent and Renee Laurent.
Our little business started in 2019 and has grown entirely thanks to customers placing advanced orders. We are beyond grateful for this! We've now surpassed 200,000 units sold.
Andrew is a former restaurant entrepreneur turned stay-at-home dad that was overcoming a physical disability on a plant-based diet when the idea for Broth Bomb was born.
The idea came while they were looking for a fun way to share his favorite easy wholesome one-pot recipes with friends and family. Including the herbs and spices with the recipes was one less step for people to cook up these delicous meals.
You'll be amazed how well we have adapted so many familiar cuisines and flavors into wholesome easy meals.
They are the perfect product for anyone looking to cook more beans and greens... or to just have some fun in the kitchen.
Check out our Stone Soup Story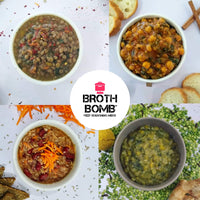 Create Your Own Set
Add any combination of 8 seasonings for to your cart and an $8 coupon will apply automatically at checkout. Free shipping also applies automatically on all orders over $22.
Current Inventory - Add to Cart